Cross-Country Submarine Flotilla & the Missing Media
The Cross-Country Submarine Flotilla
The Submarine Flotilla - Background, Case 3000
The cross-country Submarine Flotilla was organized by a subset of the protest movements against Israel's prime minister, Binayamin Netanyahu. The focus of these groups is to bring Netanyahu, commonly referred to as Bibi, to court, in the so-called "submarine affair", or Case 3000. This case, involving the purchase of submarines and other naval vessels from the German company ThyssenKrupp, is allegedly the most severe corruption/security scandal since the establishment of the state in 1948. Here is an easy-to-read photo show summarizing the case from Ha'aretz.
Source: https://www.haaretz.com/israel-news/EXT.premium.EXT-INTERACTIVE-timeline-how-israel-s-submarine-affair-has-pestered-netanyahu-1.7045277
If found guilty in court, our prime minister could be charged with high corruption or even treason – compromising Israel's security for generations in order to make short-term profits for himself and his cronies. Several prominent people were already indicted in the case, but the highly-manipulative Netanyahu has thus far succeeded to stir himself clear from the storming waters. 
Silence of the deep 
Much of this affair is shrouded in security silence, making it harder for the general public to be informed and have a definitive stance. (That, by the way, is also the situation with regard to the Iranisn Deal and threat). Yet, the highly-respectable Movement for Quality Government in Israel (MQG) has been investigating the matter thoroughly, and is now publicizing a series of ten posts (in Hebrew) covering the topic in depth.
A lay observer, though, can easily see that Netanyahu, on his part, is making every effort, so far successfully, to prevent Israel's Attorney General, Avichai Mandelblit, from indicting him in the case.
It is also clear, and becomes clearer by the day, that Bibi is ordering the police to attack inflatable submarine baloons and toys in demonstrations around the country. The joke is that more people were arrested because of plastic submarines than in the multi-billion corruption case of the authentic ones…
In my article on the submarine great march from Hemed to Jerusalem, I will post some caricaturistic video clips of the police attacking and puncturing inflatable submarine baloons… Just this Thursday, I witnessed and filmed the police using knives to attack a pink plastic submarine in Tel Aviv… Another viral joke circulating on social media is that our brave police is training a special unit to fight baloons…
Gathering the Forces - by Air, by Sea, by Land
Preparations
The submarine flotilla mega-event was masterminded, initiated, produced and coordinated by Shai Hazan from Kibbutz HaZoer'a. Three months were required for planning and preparations. 
Agricultural water containers were turned into "submarines", painted black, yellow, white and pink. Protest slogans were inscribed on top. The "submarines" were then hoisted over pickup trucks, SUVs and trailers. Other contraptions were put on kayaks, motorcycles and private cars.
By sea, by air, by land
Forty carriers left Kfar Blum in the northern Galilee at 5:00am on October 14th. Flying ATVs and light planes hovered above. Kayaks with submarine toys were rowed over the Jordan River. The idea was to bring the message rhrough "air, land and sea". 
Noga Ronen from Kibbutz Sede Nehemia, a founder of the "Black Flags" movment in the Upper Galilee, organized a subamrine kayak sail down the Jordan River.
Assembling, gathering,reinforcing
In Haifa, the participatns convened at the Naval Museum for an event that included speeches by well-known figures, like writer Zeruya Shalev and former head of the Shin Bet, Israel's secret service, and commander-in-chief of the Navy, Ami Ayalon, 
By the time the submarine flotilla reached Caesarea, where the Netanyahu family have their private villa (which they are trying to force the Israeli tax payer to pay for), the submarine convoy grew to 70-strong. Here they were joined by another caravan organized by veteran navy officers, calling themselves "Clean Hands". That caravan made a prior stop at Rosh Ha'Ayin to demonstrate in front of Benny Gantz's Residence. Gantz is the current Minister of Defense at Bibi's coalition, and the head of a party which vowed not to sit with Bibi in the same government…
According to Hazan, 10,000 people were expecting the caravans in Caesarea's Old City, where a ceremony took place, and speeches were made.
May this one please end…
Among other orators, Meir Shalev, a well-known writer and thinker, paraphrased on the famous poem, A Walk to Caesarea by Hannah Szenes, a national hero and poet. Hanna parachuted into Yugoslavia by the Hungarian border. There she joined the partisans, but was eventually caught by Hungarian army. Szenes was tortured and murdered by the Hungarian authorities. 
The iconic poem says: My God, my God, may it never end – the sea and the sand, the rustle of water, the brilliance of heavens, the prayer of man.
In contrast, Shalev asked that Netanyhau's destructive tenure will end now…He also said that submarines fit Netanyahu's character perfectly – everything secretive, hidden in the depths. But today, he emphasized, we are taking the submarines out of the water.
Roi Peleg from "Investigation Now" and Shikma Schwartzman from the Black Flags also gave speeches. 
En route to Tel Aviv, thousands waited on the overhead bridges, encouraging the participants with drums, whistles and cheers. Small drones filmed the event from above. 
Source: https://kenes-media.com/green-time/
By the time they reached Tel Aviv, the convoy has already built up to a 110 submarines-strong.
North and south joining forces en route to the capital
In Latrun, 26  km northwest of Jerusalem, the southern caravan joined the bigger northern one. Thousands expected the convoys there as well. The southern convoy set course at 12 pm from Be'er Sheva, drove through Netivot, Sa'ad, Miflasim, Sderot, Ashkelon and the naval base in Ashdod before reaching Latrun. 
By the time it had arrived in Jerusalem, the convoy totalled about 150 submarines, 500 private vehicles which joined along the way, and 6000 people.
The entire event lasted from five in the early morning until eleven at night. Unlike other protest events, here the police cooperated. Dozens of patrol cars and traffic police motorcycles escorted the submarine flotillas all day, blocking highways and junctions to enable free passage.
Grand finale by the protest tent
After the Supreme Court rally I am about to describe below, the convoy continued on to Bibi's residence on Balfour Street. There, yet another event took place.
Amir Haskel, who has been living for months now in the protest tent by the prime minister's residence with other tenacious, dedicated protesters, gave a speech. Haskel is a former pilot and a retired high commander at the Israeli Airforce with 32 years of service. During his service he commanded two squadrons and two Air Force bases. Between 1999 and 2002 he was the head of personnel of the Air Force, reaching the rank of Brigadier General. He is also a social activist and a reseracher of the Holocaust.
Jerusalem In Waiting for Submarine Flotilla - High Court Plaza
Building my fitness…
I came a bit ahead of time, of course, parking at a large distance to avoid getting another parking ticket. The City's parking department is in close cohoots with the government against the protesters…
In  consequence of this predicament, I am building good stamina this protest season – marching, hiking, walking. As a rule, I park about 2 kilometers away from the event. Add the marches on top, and I get my coronavirus exercise quota…
The Supreme Court event
With hundreds of other Jerusalemites, I now waited for the subamrine flotilla to arrive at the High Court Plaza, where the convoys were expected to gather. The event was planned to include a supportive welcome, a celebration and a series of speeches by public figures. As mentioned above, similar events took place at other stops along the way, including Caesarea (Bibi's private mansion), Haifa shipworks and Tel Aviv. The last stop was planned for Bibi's Residence on Balfour Stree by the protest tent, where demosntrations are taking place weekly.
Netanyahu is More Dangerous Than the Coronavirus. Sign carried at submarine flotilla rally, High Court plaza, Jerusalem
In the meantime, we all examined and complimented each other's signs, made friends and chanted protest slogans.
This charming lady's sign says it all: "Netanyahu is More Dangerous than the Coronavirus."
Submarine Flotilla - Drip Drip Drip
After about an hour and a half of waiting, the first submarine arrived on top of an SUV. It was a great moment and we all cheered and took pictures.
Then it was a drip, drip, drip, as vehicles carrying submarine installations came from all over the country.
We, the supporters, welcomed each new driver with cheers, chants and protest slogans.
Submarine Flotilla - The Big Event- Israel Arrives at its Capital
Eventually we were rewarded for our patience with a barrage… Watch the above 4-minute video. Feel the vibe…
As in ancient times when crowds used to come three times a year on pilgrimage to the Temple in Jerusalem, larger Israel has now finally arrived at its capital…
What an excitement…
At this point, the submarines followed closely on each other, dozens of them, from all over the land – cities and villages, north and south – on trucks, SUVs, cars and motorcycles. This was truly exhilirating. We welcomed each arrival with "Kol Hakavod" (respects!). Excitement level was very high.
Parking was crowded, so many vehicles simply stalled in place on the plaza, as we went to chat with the drivers and sang.
High Court Welcoming Event to Submarine Flotilla - The Festival
Submarine Flotilla High Court Event - The Speeches
The festival was followed by the serious part of teh agenda. Several notable figures from the military and academia gave speeches. The common thread was the demand to establish a state independent committee into the submarine alleged corruption scandal, the so-called Case 3000. 
Prof. Yoram Yovell
Prof. Yoram Yovell is a highly respected psychiatrist, brain researcher, psychoanalyst, TV presenter, author and an international keynote speaker.
At the closing event of the Big Submarine Flotilla, he gave a speech, in which he shied away from blaming Bibi outright with treason, but compared his alleged breach of trust to a marital disloyalty and called him a liar.
Here is a paraphrase of his speech:
Trust is the foundation of everything – it turns restless youth into a fighting unit, a man and a woman into a stable family, scattered tribes into a nation. Trust is an unwritten agreement between a leader and his or her people. Once it's broken, it is almost impossile to mend. When a leader loses the trust of the people, s/he rules through fear. Bibi has succeeded to do just that for while, but the people of Israel, in Yovell's words, are neither stupid nor cowards. We lost the trust in our prime minister because he lies, because he is dishonest.
And inevitably, in Yovell's opinion, Bibi will fall, and once he falls he will go back to his house in Caesarea. and then to "the big world overseas"… (chuckels)
Dan Halutz
The next speaker, Dan Halutz, comes from the military world. Former Chief of Staff of the Israel Defense Forces and commander of the Israeli Air Force, he said Case 3000, the Submarine Case, minimizes all other cases for which Bibi is indicted. In this case, the Attorney General, Mr. Avichai Mandelblit, decided not to investigate  for "lack of evidence". Even when later on evidence did emerge , for example, that Bibi had allegedly concealed from the state comptroller a stock sale of NIS 16 million which might have been related to the purchase deal, Mandelblit decided not to investigate him in this case.  
In the second part of his speech, Dan Halutz expressed a suspicion that AG Mandelblit has something to hide due to his reluctance to investigate Netanyahu in Case 3000. He also asked Benny Gantz, Minister of Defense, not to let the case fade away, and open immediately an investigation within the Defense Ministry. This was a promise Gantz made during his campaign for the Blue and White party.
Halutz called upon the Supreme Court to serve as the last defense of Israeli democracy, and upon the protesters to increase the pressure until Bibi leaves. It should not look like a happening, he said, we need to express our anger. The crowd reacted with chants of "Shame" and "Go".
Happenings and anger
I personally disagree with Halutz's statement regarding "happenings". In my opinion, happiness, joy and festivity are an integral part of a revolution that intends to bring about a happier, more joyful world to all the beaten, sad and long-suffering citizens of this country. Anger, joy, festivity, seriousness and functionality are all needed aspects of the revolution.
Overall, the suabmarine flotilla event was organized and executed flawlessly, showcasing the excellent brainpower behind it all, but also the artistry…
Submarine Flotilla - The Creative Streak
The submarine flotilla came in all shapes and sizes, carrying exotic, humorous titles, exemplifying yet again the extraordinary creativity of the protest movement.
Apart from submarines, the protest movement against Netanyahu has also birthed  a whole set of songs, slogans, artwork, chants, as well as creative home-made signs and video clips. Generally speaking, the other side's vocabulary and creativity comprises of curses, name calling, "traitor leftists" and the ubiquitous "Bibi King". 
Closure - The Anthem - Hope Springs Eternal (Hatikva)
It is a blessed custom at the end of protest events like these, including the weekly Kabbalot Shabbat on Balfour, to sing the national anthem. The more our prime minister and his cronies call us traitor leftists and anarchists, and claims we are supported by his opponents, foreign elements or the Iranians, the more we emphasize that we, the productive, law-abiding, serving, caring, tax-paying sectors of the population are the real patriots.
Submarine Flotilla Grand Event and Media Silence
My eureka moment – Israel is no longer a democracy 
There are eureka moments in a person's life when realizations hit, where the fog clears, the curtain is pulled from over one's eyes and you know truth from false, real value from games and manipulations.
That moment came for me when I looked up my news apps after the Submarine Flotilla mega-event and found no mention of it on either N12 or Channel 13. Further, when I reached home, I flipped through the news channels. Only one of them mentioned the event for a mere half a minute towards the end of the news. The other news channels ignored it altogether. Minor issues took precedence. They were what the gullible, uninformed Israeli public saw that night.
No longer a democracy – the police
By the time I arrived at the Supreme Court Plaza, I was already aware from previous demonstrations that the Israeli police was there not to protect me but to attack me. It was clear that police was now political. I will elaborate on that in upcoming posts.
But I will say here that it is one thing to see police brutality elsewhere on TV, whether in Hong Kong, Turkey or the USA; you sigh, count your blessings and keep on with your own life. It is another to watch police brutality and hysteria up close. It is still another to be pushed physically by a policewoman 40 years my junior, who could have been my student in a previous incarnation. That happened to me on the submarine march from Hemed to Jerusalem, which took place November 14th.
No longer a democracy – the media
Yet, and still, the media betrayal was the bigger disillusionment. After all, media people are highly educated, and many are also highly intelligent. Police usually come from other social strata. If we cannot trust our media, who can we trust??? (see below).
There were signs and premonitions all over the place. This was a creeping, crawling takeover. For years, Bibi was trying to control the various news outlets. This is what Cases 2000 and 4000 are all about. This was what the so-called "reform" of the Broadcasting Authority and its replacement by a "Broadcasting Corporation" were all about. More religious anchors were hired. Female anchors started wearing long sleeves. More time was given to right-wing speakers. Illustrious well-known jounalists and satirists quit or were made to quit. 
But I still needed this eureka moment to illuminate the new reality for me – 
Israel is no longer a democracy. Period.
The media is compromised, police is political, institutions of checks and balances are crumbling. These are the ways dictatorships work, not democracies.
My country is off-kilter.
Reactions of the organizers
Yuri Kendel from the political department of the Kibbutz movement described the day's events: "For many years I have been involved in Israeli society and in protests. The Submarine Flotilla departure from Kfar Blum was the most exciting moment of them all – a cooperation between the youth cadre and "the elders of the community".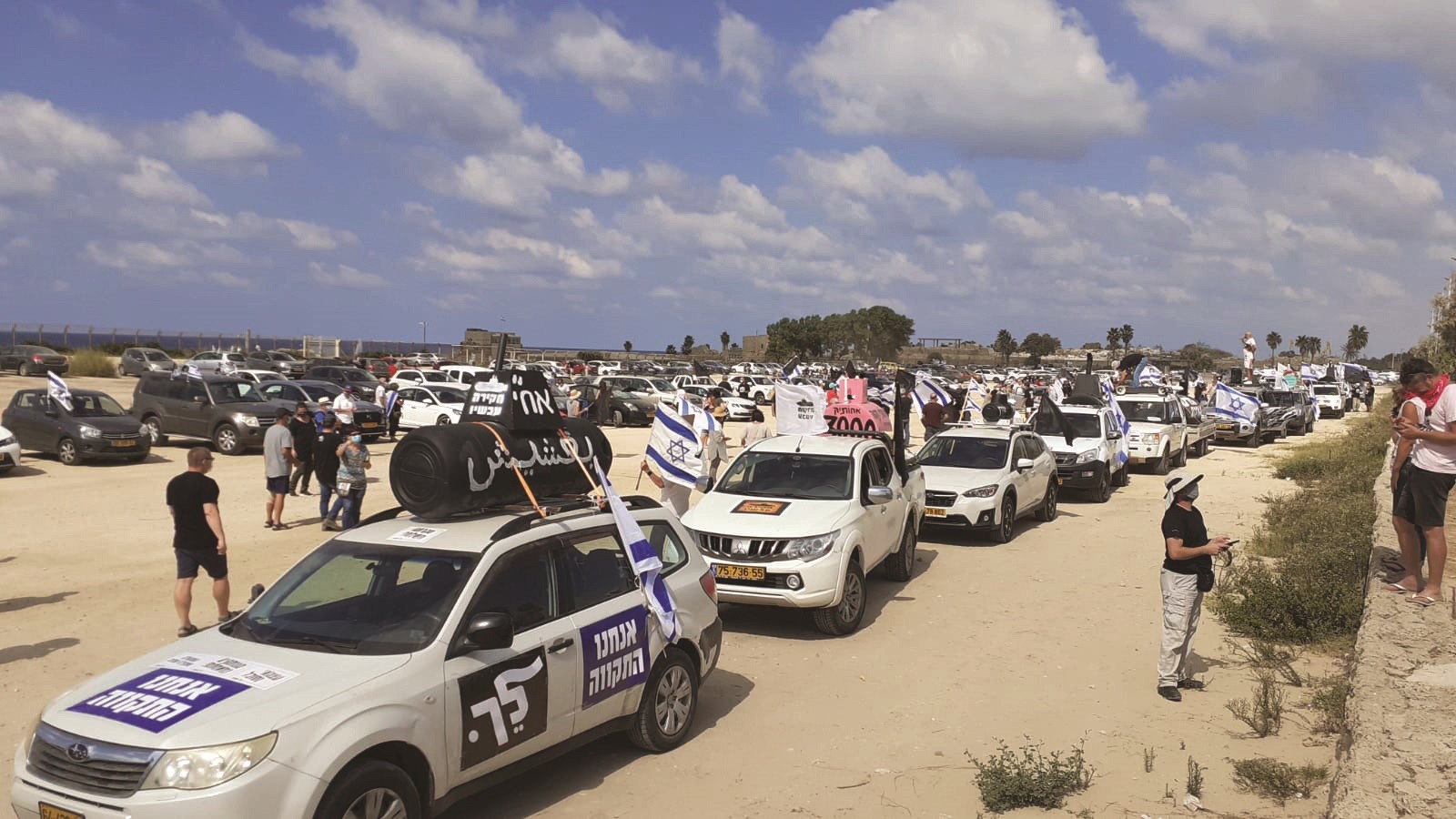 Source: https://kenes-media.com/green-time/כתבה/מסע-המחאה-הגדול-של-הצוללות/
Yet, this mega event, engulfing the entire country, received meager to non-existent coverage on the mainstream media…
Shai Hazan, event producer and organizer, was interviewd for Zman Yarok, a weekly dedicated to the Kibbutz world, by Kenes Media company:
Interviewer: There was a lot of media noise before you departed, and as you said, that was a demonstration like no other, yet media coverage on the actual D- day was meager. Is that disappointing?
Shai: A grandoise event takes place, starting 5:00am and until 23:00pm. A powerful show of force from north to south. First rate academics, writers, artists and  military personalities give speeches, and it does not get enough coverage and attention. I think the media outlets got instructions from above to silence the matter. I believe the editors got an order not to broadcast. Somebody wanted to minimize and marginalize us.
My take
This was a HUGE, picturesque, photogenic and telegenic whole-country event. Tens of thousands supported it from bridges, squares and junctions. Well-known personalities spoke or performed in a multiplicity of rallies and assemblies around the country. Nobody driving Israel's main highways on October 14th could have missed it. Shai Hazan on his part, made sure the media will be present along the route. In Tel Aviv, 30 photographers covered the event.
And yet…the mainstream media gave it minimal coverage, if at all.
As I said, this realization was the last straw for me. Now I truly internalized that Israel is no longer a democracy, and if I do not put my energies, time and abilties to do something about it, with all the others who care, we will find ourselves sliding swiftly off to the deep end. My next demonstration was in front of TV12 headquarters (post in preparation).
Not quitting
Despite the media's silencing of his grand event, Shai Hazan, the organizer of the Submarine Flotilla, does not quit.
It was a super exticing event, crazy, incomprehensible. I knew what I was aiming for. I knew the protest must bring our voice to the periphery. What got me most excited were the people who joined en route with their private vehicles. That is what give us the power to continue. We have many more ideas and we will not stop. The main goal has not been achieved yet – an investigation of the submarine affair – a real, impartial investigation. We will draw the conclusiongs, learn the lessons, see what worked well and what less so, and will plan an even larger event!
So how can Israelis get the real news now?
The lamentable state of the mainstream media gave rise to a multiplicity of new, web-based venues, often run by journalists who quit or were made to quit. In order to get true information about the protests, the government, women's struggles, the coronavirus crisis and other hot and pertinent issues, one has to watch live broadcasts on Or-ly Barlev's Facebook or Twitter accounts, DemocratTV (run by an Israeli Arab female jouranlist, Lucy AHarish), or read articles on Shakuf, The hottest place in Hell, and other independent media outlets on the Net. Most are financed by crowd funding; most are run by first-class female journalists!!!
Good Luck to Us All, Democracy Keepers.
And as the chant goes:
We won't quit until Bibi quits
(Variants: until he is interrogated, until he is arrested, they all rhyme nicely in Hebrew:
(לא נוותר עד שביבי יתפטר (ייעצר, ייחקר, ייאסר
More on media silence in my post
Crime Minister and Israel Rising
I am also preparing an article about the small demonstration in front of 12 TV in Neve Ilan, which followed on the Big Submarine Flotilla media disgrace.
More to come.
Update - Gantz is "Intending" to Establish an Investigation Committee within the Ministry of Defense
As I write, Minister of Defense and Chairman of Blue and White faction, Benny Gantz, has announced his "intention" to form an internal investigation committee into the submarine affair.
For clarification, a military investigation committee is essential, but it does not cover the criminal, civil, monetary aspects of the alleged crimes. An indepedent state committee is still needed.
Independent protest journalist , Or-Ly Barlev writes on her Facebook page:

 

This evening journalist Amnon Abramovich reported on 12 news that Gantz is expected to establish the examination committee. Gantz Bureau announced in response that ′′ As the Defense Minister said in his voice several times, the security system was guided to check the option for the establishment of a comprehensive test committee on the procurement of submarines and protective ships. When the exam is over and a decision is made, we will update ". Gantz originally planned to publish a message about the appointment tomorrow, but apparently he has not yet made a final decision.

 
More posts on the Israeli protests are to be found and will be added to my page:
Israel Rising and the Protests Against Netanyahu,
a subsection of the Israel's Best project.
To keep updated on these and other topics on my vibrant blog, planetsdaughter.com, 
במידה והנכם מוצאים אי דיוקים כלשהם, אנא כתבו לי ל Contact me.
If you find any inaccuracies, please contact me here.
Comments are welcome.