On Their Home Turf – Scoring Goals at Patriarchy's Last Stronghold
Scoring goals at Patriarchy's Last Stonghold
Heading background picture: Rose Lavelle, American soccer team. Source: http://madcitysportszone.com/2016/09/12/rose-lavelle-embraces-past-part-future/
Note:I use the terms "football " and "soccer" interchangeably. I never quite understood why Americans tranferred a good, sensible name to a game played with the hands, but it is one of those mysteries, like driving on the left in England.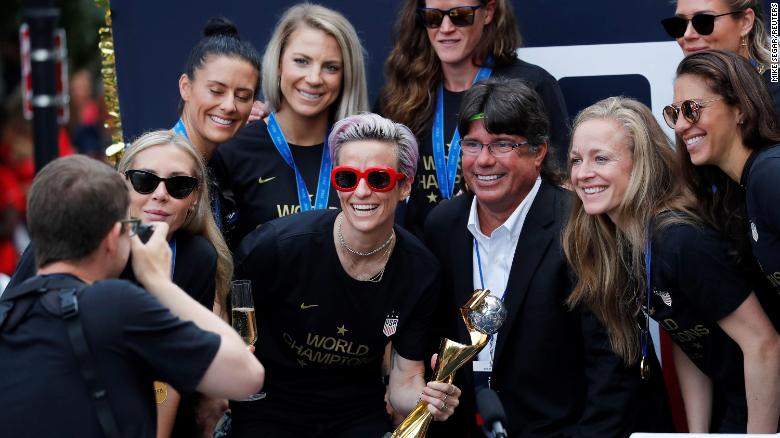 Source: https://edition.cnn.com/2019/07/10/us/us-womens-soccer-world-cup-ticker-tape-parade/index.html
Run After a Ball and Kick It
I used to think there was a special dedicated gene called "run after a ball and kick it" that only human males posessed.
As a kid, though, I proudly went with my dad to  soccer games in the YMCA court in Jerusalem. I had always enjoyed it, mainly because my papa was sitting next to me, and it was special to him. My late father, may his memory be blessed, was an intellectual and an individualist. He was the last person on earth to participate in any kind of a crowd/mob activity. Nonetheless, he loved the game, and found value in taking me with him on these Saturday afternoons, explaining the rules of the game, introducing me to an occasional friend.
My dad played some football as a kid, like all boys in our country. He had fond memories of it as well as an apparent validation for something I never quite understood. However, he was by nature uncompromisingly intolerant to curses, aggressiveness and rudeness of any sort. As things started to get rough on the football courts, he therefore decided to quit going to the games altogether.
The old YMCA fooball field, Jerusalem, Nostalgia on-line site. Source: http://www.nostal.co.il/Site.asp?table=Terms&option=single&serial=14396&subject=%EE%FA%F7%F0%E9%20%F1%F4%E5%F8%E8%20%F9%E4%E9%E5%20-%20%E5%E0%E9%F0%ED&portal=%F1%F4%E5%F8%E8
Watching games was a privilege, but it went without saying that it had never occure to my father to actually teach me the game. Girls, simply, did not play football. End of story.
Worse, we girls were forced to evacuate street corners or playgrounds where we were jumping rope or hopscotch the minute the boys came around, ball in hand.
Female Soccer: Out of Range of Interest?
Since the age of 10 or so I haven't attended a soccer game, and have very rarely followed any on TV. Bars and restaurants where screens were flickering  images of men kicking balls, jumping, howling, were shunned.
The only exceptions were when the Israeli National Team had once in a while shown some promising signs of winning the European league. Even then, though, I watched the game more for patriotic reasons than from any genuine interest in the sport. Unfortunately, the Israeli team could be counted on to never deliver in the European tournaments, and so my interest had never risen. As to local patriotism for Jerusalem's teams, that had no meaning to me whatsoever…
Worse – and this is sacrilegious of course – I've always found basketball to be quicker, more civilized and more gratifying to watch than soccer. 
All that was true and valid until July 7th this year, when I found myself mesmerized to a screen for a full 95 minutes watching a game I normally do not consider interesting. That happened despite the fact that the team I chose to side with kept bobbling and never got the upper hand (leg, rather…).
The U.S. Female Soccer Team: With Honor and Dignity
There is no question that the U.S. female soccer team brought the World Cup this year with honor and dignity. They outscored any male achievements in this field for their country with 4 wins in a row. The world's attention was  captivated with their excellence, professionalism and visually-gratifying games. This outstanding female soccer team has also presented an empowered united front vis-a-vis Trump and sceptics in the male sports establishment.  
Source: https://www.theguardian.com/commentisfree/2019/jul/06/usa-womens-world-cup-netherlands-title-xi
The media is abuzz with interviews of the players, op-eds about the meaning of the victory for women's sports, equal pay and respect, gay rights, and the political ramifications. Everybody seems to agree that things will never be the same as before. A glass ceiling in our perception of the world had shattered to never be "put together again". And the "world" had indeed stopped whatever it was doing on July 7th, 2019 to watch 22 women running after a ball on a grass field…
Female Soccer: Explaining Myself to Myself
Mesmerized
Since despite myself I was one of the mesmerized, I felt a need to explain myself to myself. What had happened here? I know I am not going to start watching female (or male) soccer games except for those special occasions. I obviously do not possess the "run after the ball" gene. I do watch the Olympics religiously, though. I see it as a fantastic arena for women's empowerment and love watching the athletics, swimming and gymnastics in particular, but ball games do not normally turn me on. Like most girlie girls, I prefer a good TV series.
So what was it?
I started my analysis with the basics: why do men watch ball games? Most never get on the grass to play themselves; many live happy sedentary lives between their couches, desks, cars and the kitchen. Nonetheless they always find the time to sit with their buddies in front of piles of cracked sunflower seeds and quickly-emptying 6-packs to cheer one team or another. There is a tacit unspoken understanding among them that identification with a team and its victories strengthen their worth as men. It gratifies an ancient, unnamed nostalgia. For a while they can all pertain to something greater, a tribal place inside that does not get an outlet in their regular, routine, digitized lives. 
A big win for womankind
I can understand this sentiment to an extent, but cannot go all the way with it. Looking inwards, and disregarding my use of the Dutch team as a focusing crutch, I discover that my ultimate allegiance is simply with women  – women as a group, women as an identity, women as models of success and achievement in any realm of life.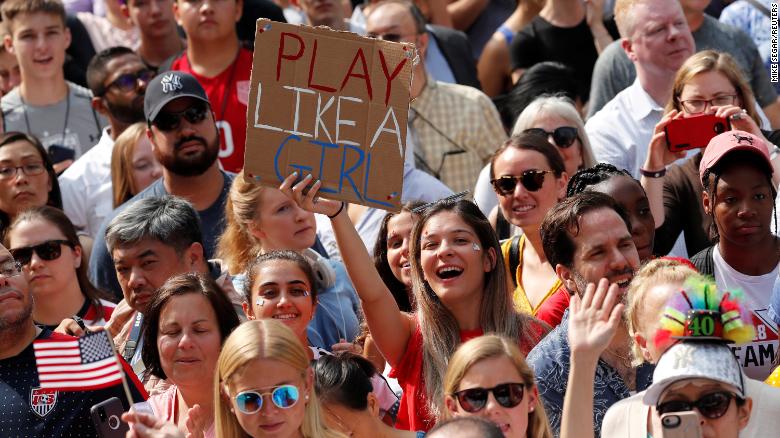 Source: https://edition.cnn.com/2019/07/10/us/us-womens-soccer-world-cup-ticker-tape-parade/index.html
Even if one is not at all interested in sports or ball games, the very fact that women can and do get on the grass or pavement and play like the wonderful female soccer teams did this tournament, empowers us all in everything else we might want to undertake. Moreover, there is something about physical prowess, specifically, that is inextricably entwined with confidence and security. Hence the special boost this victory gave to all of us of the fairer sex.
If nothing else, men know now that we can excel even on their very home turf. We can play on the same playgrounds and abide by the same rules. That also means we require the same respect, payment, perks…
In another post I described how helpful my female yoga teachers were, not only for my spiritual development, but for my identity and confidence as a woman. 
So why care who the winner was?
Well, maybe it does matter a little bit…
An endangered species?
There used to be an America I loved. Prior to 2016, prior to Charlotesville, prior to the fear a president will not evacuate his position even if he is voted out.
I was lucky. I lived in two wonderful, liberal cities – San Francisco, Ca., and Santa Fe, N.M. The America I knew was a torch-leader, not on Antisemitism and racism, but on equal opportunities, personal dignity, openess. The America I was most familiar with endevored to renew the land, our humanity, souls and communities. It was an America that humbly allowed itself to learn from the various cultures around the world and inside herself about our common and varied heritage. That America had a place for all spiritual paths as long as you did not hurt others. In that America women were creating, experimenting and participating in all ways and walks of life. It was a place that made me feel happy and free.
Today, just as much as I worry about the endangered species, oceans and rain forests, I am concerned that "my" America is under a grave threat. Nowadays it does not seem unimaginable that the beautiful National Parks could be privatized and plowed over to make space for gold towers and golf courses; that journalists opposing the government might disappear; that most of us will be ignored and belittled, live in fear. Avaricious, insensitive power grabbers could trample over any achievements we have accrued, any values we hold dear. I am worried about their ability to misuse the new technologies to pry, spy and control.
Idealistic men
In the previous America, a kindergarten teacher named Duncan took my 5-year-old daughter to the soccer field and taught her how to kick, defend, attack. This was unheard of in Israel at the time (~1995). Oh, did I love those idealistic men who saw as their mission to train little girls in the various fields of excellence, to open the world for them, men who trusted girls and women to succeed. 
In the spirit of the law 
Obviously, that is not enough, though. The Guardian has published an article named, "USA's formidable women's soccer team is no accident. It's a product of public policy". Writer Moira Donegan stated that the most important element needed for women's success in sports or any other field is legistlative and institutional support.
In 1972, feminist congresswoman Patsy Takemoto Mink of Hawaii, the first woman of color elected to Congress, introduced "title IX", a provision for the previously gender-biased educational act. This amendment was intended to prohibit discrimination on the basis of sex in all aspects of a school's operation and educational programs – including sports.
As a direct result of Title IX, the number of girls playing soccer in U.S. schools and the number of professional female athletes had grown exponentially. In 1972 when the amendment took effect, there were only 700 girls playing soccer at the high school level in the entire United States; in 2018, there were 390,482.
Deserve to win
The article further maintains that nearly 50 years after title IX became law, "a generation of women has reaped the benefits of institutional support, professional development and education that the law provides". Many have gone on to successful athletic careers. Those careers were made possible by policy.
According to Donegan, the success story of women's sports under title IX demonstrates how policy interventions can give marginalized groups opportunities to thrive; how talents and passions of individuals can be fostered with adequate institutional support.
Let's all hope that none of this is reversible at this point in history, and wish that "the rest of the world" learns from this example.
My personal take is that this kind of America, that fascinating melange of self-motivated individuals, male as well as female of all ethnicities, with a strong idealistic core, a country that still upholds a constitution that can amend its laws to include, rather than exclude, indeed deserves to win! 
A tale of two parades
Two parades have taken place on the East Coast recently.
Comparing the happy faces throughout the celebratory ticker tape parade for the female soccer team in Manhattan to Trump's ridiculous military show in Washington gives hope that we women will eventually share the turf and change the scene for the betterment of everybody! Hopefully, we will do it with loving, secure men like Duncan by and on our side, and with the full support of the law.
In Israel, Sports is Synonymous with Male Soccer
Umbilically connected with male identity
For the wider public in Israel, "sports" is almost synonymous with male football. Despite the fact the women have brought Israel 2 out of 9 Olympic medals, as well as 66 Paralympic medals out of 375, they rarely get the spotlight. Women have great achievements in judo and athletics, but on the day-to-day basis, sports in this country means men's football. 
Men watching a neighborhood soccer game on Shabbat, Kiryat Yovel, Jerusalem
The game is umbilically connected with male identity, and not necessarily to its best sides. The crowds identified with Beitar Jerusalem, for example, are notorious for roughness, bigotry and lack of civility.
Winds of Change
Women cheer their boyfriends, husbands and sons, but for the most part their interest is solely relational. Lately, this has started to change, though. There is a national female soccer team, but it is still on life support. Its meager achievements  leave a lot to be desired.
On the other hand, Alona Bareket, one of the richest women in Israel, has bought the male team "Hapo'el Be'er Sheva" and is widely credited with bringing it to three consecutive victories in the national league. She earned some honors for her activity, and had tried her hand at politics as well. 
More importantly, Athena, a project to enhance girls and women's sports in the country is succeeding to recruit more of us into the arenas. 
Going far with Athena, Israel's adrenaline-charged, fun-filled female sports extravaganza. Source: https://www.goactiveisrael.com/en/running/going-far-athena. Photo by Ronen Topelberg
The greater sisterhood
In the meantime and until things change here significantly, I find consolation and inspiration in the international women's sports scene. For me, the American and the European teams did the job, rolled out the red carpet. As far as sports is concerned, my identity as a woman trumps my wish for an Israeli medal. 
 The last world cup was a great step for womankind, and every little step (or kick) counts…