The Israeli Phenomenon in India, Part 2 – Tushita Meditation Center
Israelis in Tushita An Outlier
Before trying to understand the Israeli phenomenon in India generally, I'll make a short detour into a beautiful and quaint retreat center in Himachal Pradesh – Tushita Meditation Center.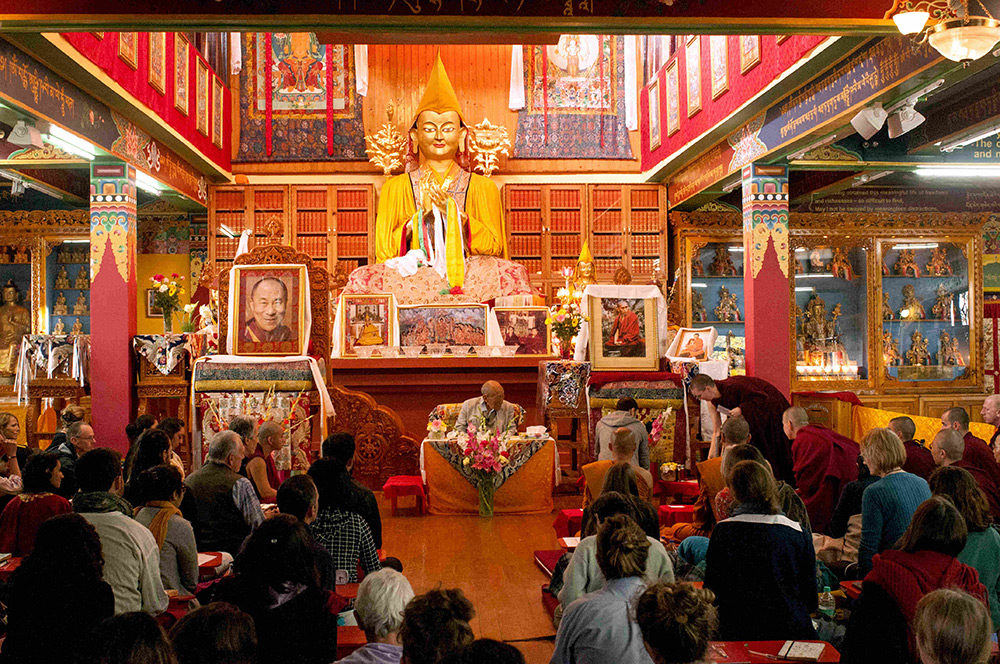 Source: Tushita newsletter
Tushita Meditation Center
Located in the midst of an old healthy forest, overlooking the Himalayan Range and the Dharamsala Valley, Tushita Meditation Center is a magical place. The center offers residence to Buddhist monks, both Tibetan and Western. It also houses hundreds of visitors who come to partake in the various activities. Besides, the grounds host a jolly troupe of monkeys, happy to call the place home.
"Introduction to Buddhism" is Tushita's centerpiece course, and is offered on a bi-weekly basis. There are also advanced classes and worshops, as well as shorter courses, retreats, guest lectures and drop-on meditation sessions. The prices are very reasonable and many activities are free.
The "intro" is a 10-day silent retreat. Two daily teachings about Buddhism are interspersed with guided meditation sessions. One hour a day there is an opportunity to talk. The students sit in small groups and are expected to discuss prescribed topics raised in the daily teachings. The last two days of the retreat are dedicated entirely to meditation.
Last but not least, wonderful vegetarian meals are given three times a day. 
Most of the students sleep in common dorms, and everybody has a karma yoga task to perform – cleaning, washing dishes, etc. 
The rules are that you cannot touch each other, have sex, take drugs, smoke, call home, kill insects or spiders. You have to hand in your cellphone, laptop, Kindle, and all other electronic devices at admission. You also say goodbye to your money, passport and credit cards for the duration of the course. All those are put in a guarded safe and watched 24 hours. A minimal amount of money can be taken in to buy necessities in the small office shop opened 2 hours daily, and to pay for laundry services. 
In a later post I will describe my experience at Tushita, but now I want to elaborate about the Israeli phenomenon.  
Source: https://www.weekendnotes.com/tushita-meditation-centre/
Israelis in Tushita - A Statistical Outlier
As you climb up the stairs up to the library in the main building, you can see a poster hanging on the wall with statistics about the student population. 
Over the years 2009-2016, women comprised 60% of the students' body. That is not surprising. Women worldwide are highly interested in yoga, meditations, Eastern religions and spirituality. More often than not, we are the majority in yoga classes given in the West.
Age-wise, no surprises either: 27% of the visitors were between the ages of 26-30, 20% were 31-35, and 10% were 36 to 40. Only 3% were between 61 and 75. This, again, was to be expected. 
The stunning part of the statistics, though, was the national composition. I wrote down the leading 12 countries of origin in descending order. The rest of the list, dozens of countries, were in single digits down below, including one visitor from the Palestinian Authority.
So Where's Everybody From?
The numbers posted were as follows:
Israel – 1923;  India – 1596; USA – 1418; UK 880; Germany 676; Canada 553; Australia 538; France 465; Spain 266; The Netherlands 246; Sweden 196; Brazil 166
Total  number of students from the 12 countries: 8923, out of which 1923, or 21.55% were Israelis…
Here are the respective populations of the above countries, according to the Worldometers site  (in millions, rounded): 
Israel – 8; India – 1,354; USA- 326; UK- 67; Germany – 82; Canada – 37; Australia – 25; France – 65; Spain – 46; Netherlands -17; Sweden – 10; Brazil – 210
Total population of these leading 11 countries without Israel: 2,239 million. Current Israeli population: 8.4 million.
In other words,we comprise about 0.36% of the total. Considering there is a minimal representation of the 1.9 million Israeli Arabs in the Tushita student body and the traveller body in India in general, it is safe to say that the actual relevant number here is the 6.5 million Israeli Jews. That would make the percentage even lower: 0.34%.
Simple calculation shows that Israel is about 63 times over-represented in Tushita in comparison with the other 11 leading countries put together. (21.55 divided by 0.34 is 63.4).
I have no doubt a similar picture is to be found in other yoga and Buddhist centers around India.
These statistics are striking, but what do they mean? What human reality is hiding behind the numbers? 
Source: Trip advisor
What is bringing so many Israelis to sit by the feet of the Buddha? To spend 10 days in silence learning about compassion and non-violence? To give up their precious cellphones?
Many, for sure, come because their friends tell them it's an interesting experience and "a cool thing to do". For instance, one cute youngster was cluelessly juggling in the yard for the first two days, oblivious to the atmosphere and the surroundings. I haven't seen him thereafter. Two girls from my dorm packed up and left after a difficult "death meditation" session.
However, on the bulletine board below there was also an ad inviting Israelis to classes and meditations given by an Israeli Buddhist nun in Ramat Gan, a Tel Aviv suburb! At the library in Bhagsu, which carries books in Hebrew and English, I met two shaven-headed and robed guys in their thirties. They were on their way back to Israel to establish a Buddhist center. Their robes were some kind of beige, not the typical orange. They gave me an explanation I did not understand, but it had something to do with their being non-Indians. 
Tushita generally is well adjusted for the Israeli crowd. The course book is handed in two languages: English and Hebrew (Interestingly, I haven't seen a Hindi one…). Our meditation guide was an Israeli girl in her thirties and there were more Israelis on the staff…
So what's going on?
The simplest explanation would be that Israelis are over-represented in the tourist scene in India as a whole, and in dharamsalla in particular, for various other reasons, and this reflects here. That is true, but I believe there is another dimension. People do not go on a 10-day silent retreat, giving up their money and beloved cellphones for nothing. Something else is at play. 
But before speculating on that, I'll go back to the main topic – trying to understand the Israeli Phenomenon in India itself.